About the Event
The Back To Bartlesville Regional Fly-In is a new event aimed at bringing back the essence of the great aviation events from the past. For decades, Bartlesville was home to a major fly-in that drew thousands of aviation enthusiasts and families from hundreds of miles around to the Bartlesville Municipal Airport.
HISTORY
It has long been a special place and very much a part of aviation history. Where Art Goebel first flew a Travel Air 5000 "WOOLAROC" then went on to win the Dole Derby air race from Oakland California to Honolulu Hawaii in 1927. It was a special place during the Billy Parker years when he was the first ever head of the Phillips Petroleum Company flight department. It was a special place where Clarence Clark, the former Travel Air test pilot, was hired by Billy Parker to become Phillips' Chief Pilot. It was special when Clarence would later invite Truman Wadlow to join him and also fly for Phillips. Clarence, Truman, and Truman's twin brother Newman, had all worked for Walter Beech in Wichita, and were all in that pioneer band of brothers who flew the historic Ford Air Tours 1925 to 1931.
It was a special place in 1934 and 1935 when Wiley Post flew his Frank Phillips-sponsored super-charged Lockheed Vega "Winnie Mae" to record breaking altitude records from Bartlesville's Frank Phillips Field. It was at Franks Phillips Field where "old" Wiley had left the Winnie Mae in one of the Phillips hangars when Wiley and Will Rogers departed California on their ill-fated float-fitted Lockheed flight north to Siberia which ended in disaster at Point Barrow, Alaska on August 15, 1935. Paul Garber of the Smithsonian Institution would come to Bartlesville to take possession of their prize acquisition and transport it by rail to Washington D.C. to join the Spirit of St. Louis as the National Air and Space Museum Centerpiece airplanes in that 1935 time frame.
It became a very special place in June, 1987 where many of the finest biplanes in the world began their 22 year long assembly. Bartlesville is where Charles Harris established the National Biplane Association and hosted the world's largest biplane gathering, Biplane Expo, which ended in 2009.
As we continue through the second century of heavier then air powered flight, now is the time for aviation enthusiast and the aviation community to gather again in historic Bartlesville, Oklahoma and celebrate freedom and enjoy the camaraderie at the Back to Bartlesville Regional Fly-In.
Bartlesville Municipal Airport is where you can be on-hand to see scores of different aircraft types arrive and depart and openly shown on display; and where you can visit at length with the owners and pilots. Spectators will have an opportunity to witness American military living history as the World War II Airborne demonstration Team performs and authentic static line parachute operation just as it happened on June 6, 1944 in Normandy France. Don't miss this opportunity to join our mission to Remember, Honor and Serve WWII Veterans. Visit the exhibits Remembering WWII Veterans and Women's Airforce Service Pilots of WWII. Experience the sight and sound of formation fly-overs during both days of the event.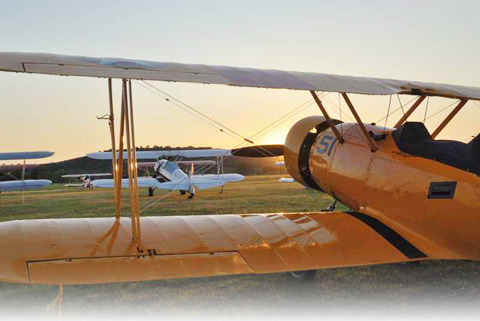 How Much Will It Cost to Attend?
Admission: Donations are encouraged.
Parking is $10 per car load, per day
Is the event Family-Friendly?
Absolutely! There will be lots of opportunities to see and hear a variety of airplanes.
Food and beverages will be appropriate for people of all ages.
What Will We See?
Fly-bys
Military aircraft
Antique aircraft
Biplanes
Kit planes
Helicopters
Military vehicles
Displays inside the hangar
Will There Be Food and Drink Available?
Food trucks (to be announced)
Non-alcoholic beverages
Can I Fly My Airplane to the Event?
Pilots are encouraged to fly their aircraft to the event for static display. See this page for details.